Ch. Lacelle's Finis von Himmel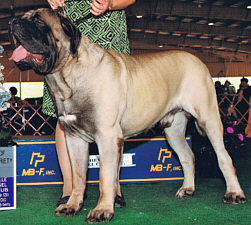 AKC#: WS26725501     BORN: 12/28/2007     PROVEN: no
Description:
  COLOR     : fawn			WHITE MARKINGS: chest
  MASK      : standard, black ears	COAT          : medium
  HEIGHT    : 31			WEIGHT        : 220 lbs
  BITE      : scissors			EYE COLOR     : dark
  BONE SIZE : huge			TAIL          : standard
  ANGULATION: straight			NAILS         : all black
Health Exams:
  HIPS      : PennHIP L DI - 0.39   R DI-0.45  70th Percentile
  ELBOW     : OFEL MF-EL4523M30-VPI
  EYES      : CERF MF-3774/2009--20	HEART	: OFA MF-CA1877/17M/C-VPI
  THYROID   : 				PATELLA	:
  CYSTINURIA: normal 6-2009		VWD	: 
  PRA DNA   :  MF-PRA1125/29M-VPI	CMR     : MF-CMR131/29M-VPI
Temperament: CGC
  ATTITUDE TOWARD OTHER DOGS    : friendly
  ATTITUDE TOWARD STRANGERS     : friendly
  ATTITUDE TOWARD NEW SITUATIONS: curious

Pedigree:
							*Int.Am.Can.Ch. Coltons Beauregard
			*Am.Can.Ch. Skamania's Tug Beau-T
			| OFA good,OFEL,CERF		-Am.Can.Ch. Moonstone's Skamania Jasmine
 SIRE: Skamania Celestial Hum V
	PennHIP .48/.51,CERF				-Storm Cannon Of Royal Oak
			-Storm Sweet Dreams Skamania
			  OFA fair,OFEL			-Greiner Hall Madam Mim

							-Can.Ch. Superior Lynnspride Bilko
			-Baskerville's Raven Aiden
			|				-Can.Ch. Pendragon Princess Kaya
  DAM: Lacelle's To The Moon
			|				-Can.Ch. Baskerville's Prince Lothar
			-Lacelle's Count On Tess
			  OFA good,OFEL			-Can.Ch. Allenbeck's Jade Princess

Comments:
Finny has great bone, length, breadth and depth of body; very dark pigment (smutty), lovely neck and shoulders, typey head, scissors bit and very dark eyes. He is extraordinarily friendly and his tail never stops wagging. He's always a favorite of handlers, judges and spectators because of his outgoing nature.
Finny has earned his championship and has two majors toward his Grand Championship. He also earned an Award of Merit (AOM) at the prestigious Bucks KS Show.
Finny's structural weaknesses are a steep croup, straight rear angle and high hocks. While he is friendly and playful, he does, on rare occasions, have issues with other intact males.
Requirements for potential bitches would be a level croup, good rear angle, solid temperament with health testing completed and an owner whose first priority is the best interest of the breed and the puppies.
The following tests have been completed: PennHIP, cystinuria, cardiac, CERF, PRA DNA, CMR.
Yet to be completed: vWD, thyroid, patella, elbows

Owner:
  NAME       : Karen Karably
  E-MAIL     : karably@bellsouth.net
  KENNEL NAME: Von Himmel
  WEBSITE    : www.VonHimmelKennel.com
  ADDRESS    : 617 Arbor Hill Rd,  Canton, GA 30115
  PHONE      : (678) 910-3122
Breeder: Karen Karably