Ch. Systo's George Bailee Wolfe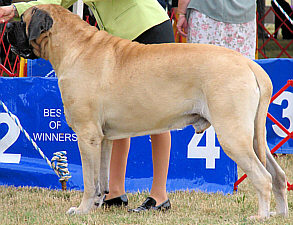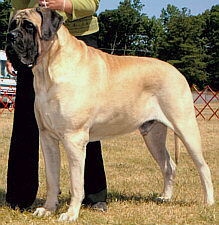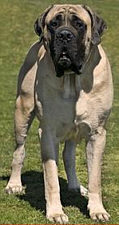 AKC#: WR07817411    BORN: 12/26/2002     PROVEN: no
Description:
  COLOR     : fawn			WHITE MARKINGS: none
  MASK      : standard, black ears	COAT          : short
  HEIGHT    : 34 inches			WEIGHT        : 228 lbs
  BITE      : slightly undershot	EYE COLOR     : dark
  BONE SIZE : large			TAIL          : standard
  ANGULATION: moderate		 	NAILS         : all black
Health Exams:
  HIPS      : OFA MF-6481F31-NOPI	ELBOW	: OFEL MF-EL3250M31-NOPI
  EYES      : CERF MF-3116N/2006--39	HEART	: OFA MF-CA1107/31M/S-NOPI-ECHO
  THYROID   : OFA MF-TH648/31M-NOPI	PATELLA	: OFA MF-PA1259/37M/P-NOPI
  CYSTINURIA: normal, 2/07/06		VWD	: 
  PRA DNA   : Clear By Parentage
Temperament: 
  ATTITUDE TOWARD OTHER DOGS    : friendly
  ATTITUDE TOWARD STRANGERS     : friendly
  ATTITUDE TOWARD NEW SITUATIONS: at ease

Pedigree:
								-Ch. Iron Hills Warwagon
				*Ch. Acorn Hill Uther Pendragon ,CGC,TDI
				  OFA MF1158G24M,OFEL,CERF	-Arrabelle Of Acorn Hill,CD,TDI
  SIRE: Ch. Pendragon Bailiffs Farlough,CGC
	  OFA MF3046F27G,OFEL					-Ch. Meadows Maxwell MacFawn,TT
				-Lady Lindsay Of Wyndehaven
				  OFA MF105F24M,OFEL,CERF	-Sur-Win's Queen Of Sheba

								-Ch. Night Stalker Sillars Clyde
				-Systo's King Dryfuss
								-Lionsire Champaingn Ellsa
   DAM: Intl.Am.Ch. Systo's Bailee's Irish Cream
	  OFA MF4586G30F,OFEL,CERF				-Lapsleys Smokey Mountain
				-Spawn'N Fawn
								-Hedgestone Mary Kae

Comments: 8/06
George's temperament is unequaled by any Dog I have ever owned, or met. He is especially confident, self assured and extremely friendly towards humans, especially Children and other dogs, including males. He is also, without question, the sweetest Dog I have ever met and would give his life in defense of his family. He is very bright and easily trained. He is not stubborn and very eager to please.
George also loves to show and considers Dog Shows almost like a play date. WHAT MAKES GEORGE SO SPECIAL IS, HE IS THE TOTAL PACKAGE in MASTIFFS and is the The Epitome of a True WORKING Dog. George has,"Balance, Breed Type, is Exceptionally Fluid with Athletically Correct Movement, a Beautiful Soft - Short Fawn Coat, Dark Mask, Round Tight - Cat Feet, Powerful - Muscular body, Wide Wrinkled Head Piece and Magnificent Top Line, matched only, by his Flawless Health and Temperament".
George is Available at stud to approved bitches of Merit. Bitches must have a passing OFA prelim or Permanent Number and have been CERF'd and PRA DNA'd.

Full Siblings:
  Ch. Systo's Bubble's La-boom Boom OFAg25,OFEL
  Ch. Systo's Full Monty OFAg25,OFEL
  Systo's Sabra Of Monastic OFAg31,OFEL
  Ch. Systo's Ta-Tonka Tuff OFAg25,OFEL

Owner:
  NAME       : Larry & Kit Wolfe
  E-MAIL     : Lwolfe@sgcpkg.com
  KENNEL NAME: Systo's Mastiffs
  ADDRESS    : Cockeysville, MD
  PHONE      : (410) 913-7434
Breeder: Jeff & Shiela Systo