Ch. Pendragon Everyday Hero, CGC,TDI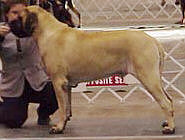 AKC#: WP922245/20   BORN: 6/18/1999   PROVEN: yes
Description:
  COLOR     : fawn				WHITE MARKINGS: chest
  MASK      : standard, black ears		COAT          : short
  HEIGHT    : 35				WEIGHT        : 247
  BITE      : scissors				EYE COLOR     : medium
  BONE SIZE : large				TAIL          : long
  ANGULATION: moderate				NAILS         : all black
Health Exams:
  HIPS   : OFA MF-4706G28M-PI, Prelim Excellent, GDC 20752H28EN
  ELBOW  : OFEL MF-EL01943-PI
  EYES   : CERF MF-1999/2000-9			PATELLAS      : OFA MF-PA00537/22/M/P-PI
  THYROID: normal				vWD           : normal 89%
  HEART  : OFA MF-CA00421/22M/C-PI		CYSTINURIA    : normal
  PRA DNA: Homozygous Normal (clear)
Temperament: CGC,TDI
  ATTITUDE TOWARD OTHER DOGS     : friendly
  ATTITUDE TOWARD STRANGERS      : friendly
  ATTITUDE TOWARD NEW SITUATIONS : at ease
Pedigree:
							-Ch. Lionsire Ironhill Warleggen
			-Ch. Iron Hills Warwagon
			   OFA  MF1041G60M		-Ch. Iron Hills Elbereth
  SIRE: Ch. Acorn Hill Uther Pendragon, CGC,TDI
	  OFA MF1158G24M,OFEL,CERF			-Ch. Deer Run Ivan
			-Arrabelle Of Acorn Hill, CD
							-Deer Run Lucrich

							* Ch. Acorn Hill Uther Pendragon, CGC,TDI
			*Ch. Pendragon's WYSIWYG WUHFGUDE, CGC
			   OFA MF1803G26M,OFEL,CERF	-Lady Lindsay Of Wyndehaven
  DAM:  Ch. Honey Creek Spoonful Of Sugar
	  OFA MF3390E31F-T,OFEL,CERF			-Villa Sturla's Rambo
			-Ch. Bush's Sugar Baby
			  OFA MF1433F44F-T		-Watts Baby

Comments: 12/00 7/01 9/07
Arfur finished his championship at 10 months. He has been shown about one weekend a month, but finished 2001 with 33 BOBs and 7 group placements. He was ranked #5 mastiff all-breed and #7 mastiff breed for 2001. He is a very large and sound dog with fabulous temperament. In the beginning of 2002, Arfur got his CGC and TDI, and is currently visiting nursing homes and schools while we work on his obedience titles. He also works as a therapy dog for counseling 9/11 rescuers. Arfur has never met a being he didn't like.
Arthur finished his show career #3 mastiff in breed and all-breed. At retirement he had 148 BOBs, 29 group placements and 2 First Awards of Excellence at Eukanuba. He is relaxing now in a field with several sheep we purchased for him to watch. Frozen semen is available.
Arfur is fully tested and a proven sire. His offspring tend to inherit his temperament, size and sound movement. He is available to bitches of suitable type and temperament.

Published Full Siblings:
 *Ch. BrickHouse's Total Package, CGC CERF
  Ch. Honey Creek Spoonful Of Lovin CERF
  Ch. Honey Creek Sweet Surprise KT, TT,CGC,TDI PRADNA
  Ingles Lady Lorna Sophia Cole OFAg31,OFEL
  Little Girl Of Boz OFAf32
  Ch. Lyndesfame Center Stage OFAf32,OFEL,CERF
  Ch. Pendragon Forge Hollow Ariel OFAg28,OFEL,PRADNA
  Ch. Pendragon Pecos Bill
  Ch. Sir Goliath Of Honeycreek, CD OFAg25,OFEL
  Steca Southern Secret OFEL

Published Offspring:
  Mtn Oaks Destiny OFAg40,OFEL
  Ch. Mtn Oaks N Ringside Grace OFAg24,OFEL

Owner:
  NAME       : Sarah Waldorf
  E-MAIL     : Maofryan@aol.com
  KENNEL NAME: Lyndesfarne
  ADDRESS    : PO Box 9,  Petersburg, NY 12138
  PHONE      : (518) 658-3594
Breeder: S. Krauser / S. Bush