Ch. BrickHouse's Total Package, CGC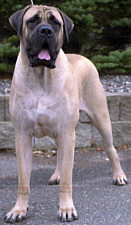 16 months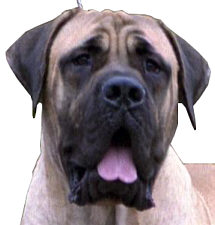 16 months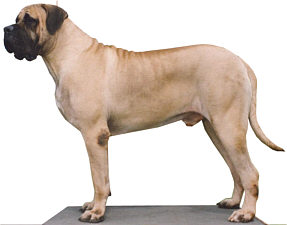 23 months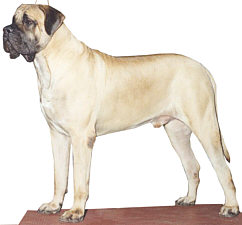 25 months

  AKC#: WP922245/14   BORN: 6/18/1999   PROVEN: yes
Description:
  COLOR     : fawn			WHITE MARKINGS: chest
  MASK      : standard, black ears	COAT          : short
  HEIGHT    : 34			WEIGHT        : 210
  BITE      : scissors			EYE COLOR     : dark
  BONE SIZE : large			TAIL          : standard
  ANGULATION: moderate			NAILS         : more black than white
Health Exams:
  HIPS      : OFA prelim good		ELBOW         : unknown
  EYES      : CERF MF-2201/2000--16	PATELLAS      : unknown
  THYROID   : unknown			vWD           : unknown
  HEART     : unknown			Cystinuria    : unknown
Temperament: CGC
  ATTITUDE TOWARD OTHER DOGS     : friendly
  ATTITUDE TOWARD STRANGERS      : friendly
  ATTITUDE TOWARD NEW SITUATIONS : at ease
Pedigree:
							-Ch. Lionsire Ironhill Warleggen
			-Ch. Iron Hills Warwagon
			   OFA  MF1041G60M		-Ch. Iron Hills Elbereth
  SIRE: Ch. Acorn Hill Uther Pendragon, CGC,TDI
	  OFA MF1158G24M,OFEL,CERF			-Ch. Deer Run Ivan
			-Arrabelle Of Acorn Hill, CD
							-Deer Run Lucrich

							* Ch. Acorn Hill Uther Pendragon, CGC,TDI
			*Ch. Pendragon's WYSIWYG WUHFGUDE, CGC
			   OFA MF1803G26M,OFEL,CERF	-Lady Lindsay Of Wyndehaven
  DAM:  Ch. Honey Creek Spoonful Of Sugar
	  OFA MF3390E31F-T,OFEL,CERF			-Villa Sturla's Rambo
			-Ch. Bush's Sugar Baby
			  OFA MF1433F44F-T		-Watts Baby

Comments: 8/01
Luther started his show career with a bang. At his first show when he was six months old he took Best of Breed from the 6-9 month puppy class for a four point major. The next day he took Best of Opposite for a three point major. It has been a ride ever since. He went on to take fourth in the 9-12 month puppy dog class at the Nationals in 2000. He finished at 18 months with two more three-point majors. He has multiple Best of Breed placements.
We are thankful everyday that God has graced our household with him. He is first and foremost a member of our family. His temperament makes him the center of attention ringside or in the yard. There isnít an animal, person or thing that he doesnít like.
As a stud dog he has many things to offer. He is a very powerful mover that floats around the ring. He is a very sound heads up dog. He has an excellent topline, large bone and a perfect scissors bite. He is always friendly no matter where he is, be it at the vetís office, at home or ringside.
If interested please feel free to contact us regarding our requirements when considering a bitch for breeding.

Published Offspring:
 *BrickHouse's In God We Trust OFAg28,OFEL,PRADNA

Published Full Siblings:
  Ch. Honey Creek Spoonful Of Lovin
  Ch. Honey Creek Sweet Surprise KT, TT,CGC,TDI
  Ingles Lady Lorna Sophia Cole OFAg31,OFEL
  Little Girl Of Boz OFAf32
  Ch. Lyndesfarne Center Stage OFAf32,OFEL,CERF
 *Ch. Pendragon Everyday Hero, CGC,TDI OFAg28,OFEL,CERF
  Ch. Pendragon Forge Hollow Ariel OFAg28,OFEL
  Ch. Pendragon Pecos Bill
  Ch. Sir Goliath Of Honeycreek, CD OFAg25,OFEL
  Steca Southern Secret OFEL

Owner:
  NAME       : Jennifer and Nathan Anderson
  E-MAIL     : brickhousemastiffs@yahoo.com
  KENNEL NAME: BrickHouse
  ADDRESS    : Golden Valley,  MN 55427
  PHONE      : (763) 595-9714
Breeder: S. Bush / S. Krauser