Ch. Castlemist Morpheus, CD,CGC,TDI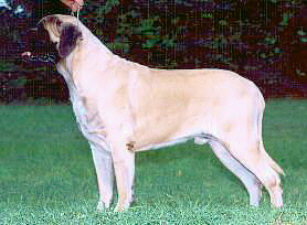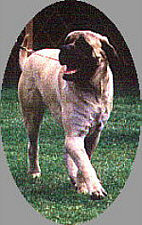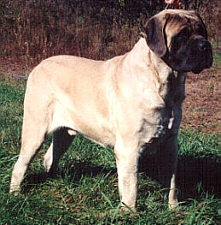 AKC#: WP845420/01     BORN: 11/14/1997      PROVEN: yes
Description:
  COLOR     : fawn			WHITE MARKINGS: some
  MASK      : standard, black ears	COAT          : medium
  HEIGHT    : 32 1/2			WEIGHT        : 202
  BITE      : slightly undershot	EYE COLOR     : dark
  BONE SIZE : very large		TAIL          : standard
  ANGULATION: moderate			NAILS         : more black than white
Health Exams:
  HIPS      : OFA MF-3908G25M-T		ELBOW         : DJD grade I at 1,2&5 years
  EYES      : CERF MF-2013/2000-30	CYSTINURIA    : Negative
  THYROID   : OFA MF-TH169/59M-PI	vWD           :
  HEART     : OFA MF-CA436/41M/C-PI	PATELLAS      : OFA MF-PA00621/47/M/P/-PI
  PRA DNA   : Homozygous Normal (clear)
Temperament: CGC, TDI
  ATTITUDE TOWARD OTHER DOGS     : friendly
  ATTITUDE TOWARD STRANGERS      : friendly
  ATTITUDE TOWARD NEW SITUATIONS : curious

Pedigree:
							-Ch. Iron Hills Warwagon
				*Ch. Iron Hills Orpheus
							-Ch. Brite Star's Lionsire Addition
  SIRE: Ch. Ridgewood's Otis
	  OFA MF2162F48M,OFEL,CERF			-Pharoah Rustam The First
				-Kayla Bradee
							-Tilda Mae's Hannah

							-McGill's Brandon Buck Samson
				*Ch. Castlemist Baloo Bayou, CD,TT,CGC,TDI
				   OFA MF2143F28M,CERF	-McGill's Lady Of Silver Run
  DAM:  Castlemist Pretty In Pink
	  OFA MF2752G29F-T,OFEL,CERF			-Ch. Night Stalker Wellington
				-Ch. Castlemist First Light Of Dawn, CD,TT,CGC,TDI
				   OFA MF2285G42F,OFEL	-April Flowers
				   CERF

Comments: 12/02, 9/03, 2/07
Morph is a happy, soft, well-rounded Mastiff boy with good size, movement, type and temperament. His accomplishments at the 1999 MCOA National were noteworthy in that he won his Futurity and Sweepstakes classes (different judges) owner-handled. In 2000, he made the cut in a very competitive Tournament of Mastiffs (panel of three judges) and also earned the first leg of his obedience title with a third place in Novice B, also owner-handled. He also passed his CGC and TDI tests. In 2001 at the National Specialty, he and his favorite 11 year old won Best Junior and he was also first runner up in the Tournament of Mastiffs in addition to finishing up his Companion Dog title.
Morpheus adores everyone and is not bothered in strange new situations. He has a very willing, soft personality and has been, I think, the easiest dog to work with that I have ever trained in obedience. He never forgets a lesson and wants nothing more than to please Mommy. He doesn't try to figure ways around what he is being taught. His hobbies are training for obedience, leaping into the air repeatedly simply for the joy of it, playing with his pet kitty (yes, a real one and yes, gently), carrying his stuffed toys gently around the house and yard and sharing them with friends, and making new friends; human, canine, feline and otherwise! He's our first choice when we make visits for the Canine Ambassador Program or therapy visits because he is completely trustworthy with strangers handling him and he just loves doing it so much.
Morphie is a sweet, loving, devoted goofball.
Morph passed his hips with OFA good on both prelims and permanents. He had DJD Grade I on OFA elbow prelims at one year of age and on permanents at two years. We rechecked again at age five for our own benefit, and his elbow status had not progressed beyond Grade I.
Morpheus' prime time as a special might be over, but just a few months before he is eligible for veteran competition, he has raised the bar yet again - and again has given us a first-ever thrill. At the 2003 National Specialty in Carlisle, PA, Morpheus was again runner-up in the Tournament of Mastiffs, and for the first time he earned a coveted Award Of Merit (AOM) - breeder-owner-handled! He was the only Mastiff so honored this year who carries an obedience title, and possibly also the only AOM to be breeder-owner-handled this year as well. In a field of 600+ Mastiffs, just 11 AOMs were awarded. It's a moment I will never forget, and for which we are forever thankful to respected breeder-judge Mr. Fred Simon.
Morpheus also did his part for Team MacKenzie in Open Junior as well, happily exhibiting 'his child' to the Mastiff community. He is truly an all-around, once-in-a-lifetime dog.
Morph is still going strong at nine years old. He continues to serve as a good-natured breed representative the week of his ninth birthday in a well-attended seminar for Irish Wolfhound breeders. The IW speaker needed him to give an example of where IWs were instilled with their breed's power.

Published Full Siblings:
  Castlemist Daniels Boone OFAg29,OFEL,CERF
  Castlemist Romeo Buddy  CERF

Owner:
  NAME        : Heidi MacKenzie
  KENNEL NAME : Castlemist Mastiffs
  ADDRESS     : PO Box 497,  Hubbardston, MA 01452
  PHONE       : (978) 632-6898
  E-MAIL      : mastiffmom@mastiffmom.com
Breeder: owner