Ch. Cape Wind's Three Run Odyssey, CGC,TDI,TT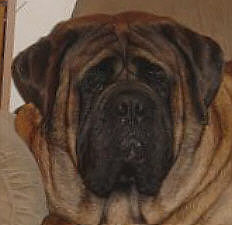 33months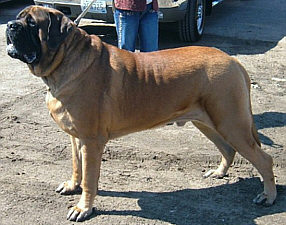 25months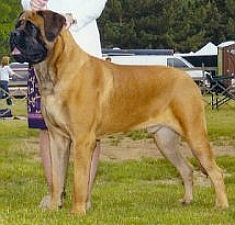 14months

  AKC#: WS037329/02    BORN: 2/28/2003     PROVEN: yes
Description:
  COLOR     : apricot			WHITE MARKINGS: chest, feet
  MASK      : standard, black ears	COAT          : medium
  HEIGHT    : 33.5 inches		WEIGHT        : 247 lbs
  BITE      : undershot			EYE COLOR     : dark
  BONE SIZE : huge			TAIL          : standard
  ANGULATION: moderate			NAILS         : mostly black
Health Exams:
  HIPS      : MF-6491F36M-PI		ELBOW	: MF-EL3258M33-PI
  EYES      : 				HEART	: MF-CA1156/34M/P-PI
  THYROID   : MF-TH667/36M-PI		PATELLA	: MF-PA1261/34M/P-PI
  CYSTINURIA: 				VWD	: normal 95%
  PRA DNA   : clear by parentage 
Temperament: TT,CGC,TDI
  ATTITUDE TOWARD OTHER DOGS    : friendly
  ATTITUDE TOWARD STRANGERS     : friendly
  ATTITUDE TOWARD NEW SITUATIONS: at ease

Pedigree:
						   *Ch. Avalon Tucson Warrior, CGC,TDI
			-Lionhearted King Of Midnight, CGC
			  OFA MF4215G25M,OFEL	   -Lionhearted Blackberry's Gypsy
  SIRE: Ch. Cape Wind's Cliff Hanger
	 OFA MF6499G29M,OFEL			   -Alfred E Newman Of Cdridge
			-Ch. Cape Wind's Forever Autumn, CGC,TDI
			  OFA MF6498F57F,OFEL,CERF -Ironclad Abigal

						   -Ch. Iron Hills Paint Your Wagon
			-Ch. Iron Hills InTo The Night
			  OFA MF2277G34M,OFEL,CERF -Kara Stonehage
  DAM:  Ch. Ironhills Girl Next Door, CGC
	 OFA MF4770G30F,OFEL,CERF		   -Am.Can.Ch. Matts Joshua Of Dogwood Knoll
			-Ch. Iron Hills Little Earthquake
			  OFA MF3056G30F,OFEL	   -Ch. Iron Hills Fixin To Start

Comments: 5/06
Homer is a lovely male who does us proud whereever he goes. Structurally, he adds size, bone, angles and his beautiful apricot coloring to the majority of his puppies. He earned his championship in limited showings, just shy of 14 months of age.
It's his personality that we are most proud of. While he has proven he is able to protect, he has a true zest for life and wants everyone to be his friend. His feelings are easily hurt if he isn't able to please everyone. Everyone includes people of all ages, but he is especially hurt when other dogs aren't as friendly and polite as he is.
Homer has graduated through Level 3 obedience (we hope to eventually add his CD title), and he passed his TT, CGC, and TDI with ease.

Owner:
  NAME       : Geri MacDonald & Kim Berube
  E-MAIL     : capewindmastiff@comcast.net
  KENNEL NAME: Cape Wind Mastiffs
  ADDRESS    : Dennisport, MA  02639
  PHONE      : (508) 398-9686
Breeder: Geri MacDonald