Ch. Lyonhurst Orson, CGC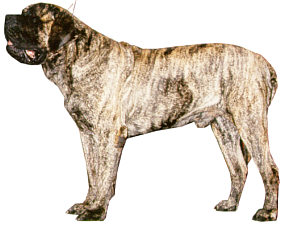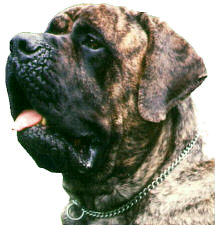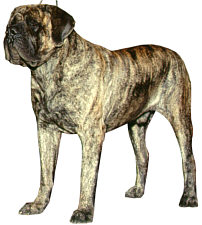 AKC#: WP626279/01     BORN: 5/8/1995     PROVEN: yes
Description:
  COLOR     : dark fawn brindle		 WHITE MARKINGS: dime-size on chest
  MASK      : standard, lighter ears	 COAT          : short
  HEIGHT    : 31			 WEIGHT        : 205
  BITE      : scissors			 EYE COLOR     : dark
  BONE SIZE : medium			 TAIL          : standard
  ANGULATION: moderate			 NAILS         : all black
Health Exams: 
  HIPS    : OFA MF-2705G25M, Prelim Good ELBOW  : OFA MF-EL877-T, Prelim Clear
  EYES    : CERF MF799/96-10&25&36&54	 CYSTINURIA: normal (negative)
  THYROID : normal			 vWD    : normal 92%
  PATELLAS: MF-PA55/12/M		 CARDIAC: MF-CA151/36M/P-T
  PRA DNA : Homozygous Normal (clear) MF-PRA69/78M-PI
Temperament: CGC
  ATTITUDE TOWARD OTHER DOGS    : friendly
  ATTITUDE TOWARD STRANGERS     : friendly
  ATTITUDE TOWARD NEW SITUATIONS: at ease

Pedigree:
						-Task Force Of Windridge
			-Brawnson The Majestic
						-Greco's Duchess Of Windridge
  SIRE: Sir Buckingham Of Navajo Run
	 OFA MF1848G30M				-Ch. Lord Valerian Of Lyonhurst
			-Emma Lyonhurst Enchantress
						-Kizzamore My Lady

						-Ch. Lord Valerian Of Lyonhurst
			-Lyonhurst Roc Of Castlemount
						-Kodiak's Magnum
  DAM: Lyonhurst Regina
	 OFA MF1182G25F				-Ch. Lord Valerian Of Lyonhurst
			-Lyonhurst Forever Ember
			   OFA MF1159G51F	-Kizzamore My Lady

Comments: 6/96 8/01 1/04 9/07
Orson is a linebred Lyonhurst dog with much to offer in any situation. He finished his Champion at the age of 17 months with three majors, exhibiting the structure and movement to compete as an equal with dogs twice his age. Orson has a beautiful head of correct proportion, well-defined musculature, a broad front and rear, moves with power and grace, and has an outgoing, friendly and alert personality. He is shown occasionally in our area and presents himself with the same joy of being in the ring he did as a pup. (He DOES like to show off!)
Orson is known for passing along his head type, movement, intelligence and attitude. His offspring have not only done well in the show ring but also as Obedience and Therapy dogs. His Granddam was a certified Search and Rescue Dog and his litter sister a Service Dog to a disabled teenager. With Orson you get both Beauty and Brains!
He is offered at stud to approved bitches. Minimum requirements - OFA Certification or Prelims and CERF. Orson is DNA registered.
Frozen semen available. Orson passed away in September of 2005 at the age of 10. We have a very few breedings available through frozen sperm to special, approved bitches. His last litter from frozen resulted in 12 live puppies.

Published Photos:
  MCOA Journal 1998#3
  MCOA Journal 1999#1

Published Full Siblings:
  Ch. Bohles Nugget Of Weatherby
  Major Lyonhurst Epstein OFAf33
  Silvercreek Sir Indiana Lyonhurst

Published Offspring
  Cristo's Lady Pippen of Lyonhurst OFAf47,OFEL,CERF
  Dodge City's Lyonhurst Cloey OFAf27,CERF
  Dodge City's Sir Dylan Finn OFAf25
  Ch. Dodge City Sugargrove's Angel OFAe27,OFEL
  Genesis Mystic Rose OFAg25,OFEL,CERF
  Jazmyns Rain Of Grace OFAe42
  Lady Grace Of Lyonhurst OFEL
  Lyonhurst Chancey CERF
  Lyonhurst Charming Cricket OFAe26,OFEL
  Lyonhurst Final Edition
  Ch. Lyonhurst Howie Huge OFAg24,OFEL,CERF
  Lyonhurst Lady Macchu Picchu CERF
  Lyonhurst Lady Tess
  Lyonhurst Lucy CERF
  Lyonhurst Magik Abracadabra OFAf24,OFEL,CERF,PRADNA
  Lyonhurst Miss Molly McGee OFAg24,OFEL,CERF
  Lyonhurst Roo To The Pooh OFAe25,OFEL,CERF
  Lyonhurst Rory CERF
  Malbranche Beatrice Mudd-Pye, CD OFAg44
  Malbranche Calamity Jane
  Malbranche Orion OFAg33,OFEL
  Malbranche Ramona Mudd Pye CERF
  Mandell Of Lyonhurst OFAg24,OFEL
  Tanook's Tenacious Rock
 *Ch. Winding River's Lyonhurst OFAg27,OFEL,CERF,PRADNA

Owner:
  NAME       : Bonnie C. Faulstich
  E-MAIL     : lyonhurst@comcast.net
  KENNEL NAME: Lyonhurst
  ADDRESS    : 1201 W 22nd St., LaPorte, IN 46350
  PHONE      : (219) 326-7952
Breeder: owner