Ch. Winding River's Lyonhurst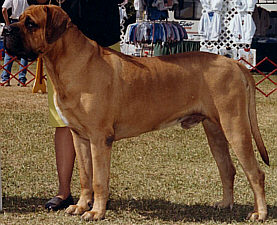 AKC#: WP932971/03   BORN: 8/17/1999   PROVEN: yes
Description:
  COLOR     : apricot			WHITE MARKINGS: chest
  MASK      : partial, lighter ears	COAT          : short
  HEIGHT    : 32 1/2"			WEIGHT        : 210
  BITE      : slightly undershot	EYE COLOR     : medium
  BONE SIZE : large			TAIL          : standard
  ANGULATION: moderate			NAILS         : all black
Health Exams: 
  HIPS      : OFA MF-4757G27M-PI & prelim good	ELBOW     : OFA MF-EL1982M28-PI & prelim clear
  EYES      : CERF MF-2134 9/11/2001		PATELLAS  : OFA MF-PA462/12/M/P-T
  THYROID   : normal 1/15/02			vWD       : normal 75%
  HEART     : OFA MF-CA354/14M/P-T		CYSTINURIA: normal UPENN
Temperament: not tested
  ATTITUDE TOWARD OTHER DOGS     : friendly
  ATTITUDE TOWARD STRANGERS      : friendly
  ATTITUDE TOWARD NEW SITUATIONS : at ease
Pedigree:
						-Brawnson The Majestic
			-Sir Buckingham Of Navajo Run
			  OFA MF1848G30M	-Emma Lyonhurst Enchantress
  SIRE: Ch. Lyonhurst Orson, CGC
	  OFA MF2705G25M,OFEL,CERF54		-Lyonhurst Roc Of Castlemount
			-Lyonhurst Regina
			  OFA MF1182G25F	-Lyonhurst Forever Ember
						  OFA MF1159G51F

						-Ch. Haydens Gulliver, CD,CGC,TDI,TT
			-Ch. Sir Oliver Of Evergreen
						-Evergreen Willowledge Sandy
  DAM:  Lyonhurst Spur Of The Moment
	  OFA MF3315G24F-T,OFEL			-Ch. Roco Of Sir Grizzleys
			-Ginnie Alexandria Beethoven
			  OFA MF1713G33F	-Princess Alexandria Hanover

Comments: 1/05
"Rocky" is a friendly, outgoing, athletic mastiff who never meets a stranger. He loves to lie around and have people pet him. He quickly offers his paw to everyone he meets. There is no agression in this dog.
His strengths are his beautiful head and inquisitive face; as well as, his wonderful temperament. He loves chasing balls and anxiously waits for the football to be thrown.
He has sired a litters of eleven and recently sired a litter of nine with shipped chilled semen.
Rocky is available to approved bitches with a minimum testing of hips and PRA.

Published Offspring
  Mcgee's Unzo Ko Mejcharwestburg
  Winding River's Big Buck OFAg36
  Winding Rivers Tigress Of Lara OFAg24,OFEL

Published Full Siblings
  Jazmyns Rain Of Grace OFAe42
  Lady Grace Of Lyonhurst OFAf34,OFEL
  Lyonhurst Charming Cricket OFAe26,OFEL
  Lyonhurst Chancey CERF
  Ch. Lyonhurst Howie Huge OFAg24,OFEL,CERF
  Lyonhurst Lady Macchu Picchu CERF
  Lyonhurst Lucy CERF
  Lyonhurst Magik Abracadabra OFAf24,OFEL,CERF
  Lyonhurst Roo To The Pooh OFAe25,OFEL,CERF
  Lyonhurst Rory CERF
  Mandell Of Lyonhurst OFAg24,OFEL

Owner:
  NAME       : Eric J Siebert  WindngRvrMastiff@aol.com
  KENNEL NAME: Winding River
  ADDRESS    : 489 Brenington Dr,  Burgan, NC 28425
  PHONE      : (910) 259-7953
Breeder: B. Faulstich