Ch. Caledonia's Second Promise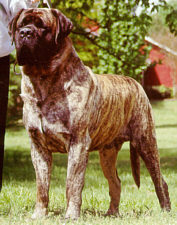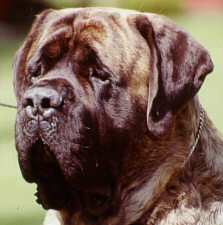 AKC#: WP844758/04     BORN: 12/8/1997    PROVEN: yes
Description:
  COLOR	   : apricot brindle		WHITE MARKINGS: none
  MASK	   : standard, black ears	COAT	  : medium
  HEIGHT   : 35				WEIGHT	  : 235
  BITE	   : scissors			EYE COLOR : dark
  BONE SIZE: huge			TAIL	  : standard
  NAILS	   : all black			ANGULATION: moderate
Health Exams: 
  HIPS	 : OFA MF-4046E27M-T		ELBOW	  : OFA MF-EL1515-T
  EYES	 : CERF MF-1991-2002--55	PATELLA	  : OFA MF-PA422/31/M/P-T
  THYROID: normal			vWD	  : normal  vWF:Ag: 81%
  CARDIAC: OFA MF-CA00321/32M/C-T	CYSTINURIA: negative 7/18/00
  PRA DNA: Homozygous Normal (clear)
Temperament:
  ATTITUDE TOWARD OTHER DOGS	: friendly
  ATTITUDE TOWARD STRANGERS	: friendly
  ATTITUDE TOWARD NEW SITUATIONS: at ease
Pedigree:
						-Ch. Iron Hills Warwagon
		-Ch. Iron Hills Paint Your Wagon
		   OFA MF2092E51M,OFEL,CERF	-Ch. Lionsire Indigo Of Pax River
  SIRE: Ch. Caledonia Darkman
	  OFA MF2077F24M			-Ch. Lionhearted Prince Lucifer
		-Caledonia Tropical Breeze
						-The Spook Of Baskerville

						-Ch. Deer Run Semper Fi Thor, CD
		-Ch. Iron Hills Portfolio
		  OFA MF2111G32M-T		-Ch. Iron Hills Earned Interest
  DAM: Caledonia Pandemonium
       						-Ch. Iron Hills Warwagon
		-Ch. Iron Hills Bet The Farm
						-Lionsire Nauti Girl

Comments: 7/01 10/07 - NO LONGER AVAILABLE
Mulder has earned an MCOA Gold Health Award.
Mulder's show career started at the 1999 MCOA National Specialty. He won the Open Brindle class and Reserve Winner's Dog. This was his first dog show. During the 2000 MCOA National Specialty, he won the Open Brindle class, Winner's Dog, and an Award of Merit. He finished his championship easily with limited showing. Mulder is a Best of Breed winner.
Mulder has an excellent temperament. He is very good natured, docile, courageous, and dignified. He has a massive proportional head with a short broad muzzle. His facial mask and ears are very dark. He has a very powerful, muscular, and athletic body with huge bone structure. His chest is wide, deep, and rounded. His rear is broad, strong, wide, and muscular. His feet and toes are round and tight. He is a very sound dog that exhibits excellent powerful and graceful movement.
Mulder is fed Solid Gold Health Products for Pets.
Mulder is available for stud to approved bitches. His DNA is registered with AKC. He has fresh chilled and frozen semen available.

Publications:
  2000 MCOA National Specialty Catalog
  2000 MCOA Journal #3
  Canine Chronicle: The Annual 2000-2001 Issue
  2001 MCOA National Specialty Catalog

Published Full Siblings:
  Caledonia Third Surprize OFAf32,OFEL,CERF,PRADNA

Published Offspring:
  Comstock Calli's Tiger Lily OFAg27,OFEL,CERF 
 *Ch. Comstock's Listen To Your Heart OFAe24,OFEL,CERF 
 *Intl.Am.Ch. Comstock's Rio Grande OFAg27,OFEL,CERF 
  Comstock's Road Not Taken OFEL
  Comstock's Surprise Prospect CERF
  Mgm Continental Drifter
  Muskoka's Stand By Me CERF
  Sherridane's Best Kept Secret OFAg26,OFEL
  Windfalls Bella Mia OfHarlayne OFAf24,OFEL,CERF 
  Windfalls Can't Budge Mudge OFEL,CERF
  Windfalls Cherokee Mittzee OFAg24,OFEL,CERF 
  Windfalls Dark Cloud Of Reign OFAg24,OFEL,CERF 
  Windfalls Diesel CERF
  Windfalls Lovely Lady Phoebe OFAg25,OFEL,CERF
  Windfalls Maximus Stercometer CERF
 *Ch. Windfalls Rolling Rock OFAg24,OFEL,CERF 
 *Ch. Winding Rivers Lord Bullington PennHIP,OFEL

Owners:
  NAME	 : Kellye Brenner
  KENNEL : Adonai Mastiffs
  E-MAIL : KellyeBrenner@hotmail.com
  ADDRESS: 828 Academy Lane,  Columbia, TN 38401
  PHONE  : (931) 490-9991
Breeder: S. Farber