Ch. Windfalls Rolling Rock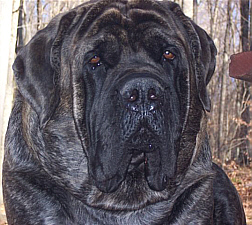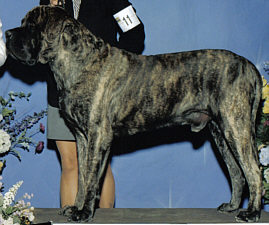 AKC#: WR069521/05     BORN: 7/18/2002     PROVEN: yes
Description:
  COLOR     : fawn brindle		WHITE MARKINGS: none
  MASK      : standard, lighter ears	COAT          : short
  HEIGHT    : 34			WEIGHT        : 240
  BITE      : level			EYE COLOR     : dark
  BONE SIZE : large			TAIL          : standard
  ANGULATION: straight			NAILS         : all black
Health Exams: 
  HIPS     : OFA MF-5947G24M-PI		ELBOW     : OFEL MF-EL2825M24-PI
  EYES     : CERF MF-2520/2004--4	PATELLA   : OFA MF-PA995/24M/P-PI
  THYROID  : OFA MF-TH504/25M-PI	vWD       : normal 105%
  CARDIAC  : OFA MF-CA871/24M/P-PI	CYSTINURIA: normal 5/3/04
  PRA DNA  : Clear by Parentage
Temperament: 
  ATTITUDE TOWARD OTHER DOGS    : friendly
  ATTITUDE TOWARD STRANGERS     : friendly
  ATTITUDE TOWARD NEW SITUATIONS: aloof / curious

Pedigree:
								-Ch. Iron Hills Paint Your Wagon
			-Ch. Caledonia Darkman
			  OFA MF2077F24M			-Caledonia Tropical Breeze
  SIRE: Ch. Caledonia Second Promise 
	OFA MF4046E27M-T,OFEL  					-Ch. Iron Hills Portfolio
	CERF,PRADNA	-Caledonia Pandemonium
								-Ch. Iron Hills Bet The Farm

								-Ch. Greco's Hollesley Rogue
			*Greco's Nigel Of Northampton 
			  OFA MF2226G24M,OFEL,CERF,PRADNA	-Greco's Saint Bernadette Holl
  DAM:  Windfalls Queen Of The Valkyries 
	 OFA MF4868G26F,OFEL,CERF,PRADNA			-Monarch's Black Sun Rising
			-Monarch's Jewel Of Windfall 
			  OFA MF3166F24F,OFEL,CERF		-Am.Can.Ch. Monroe's Queen Antigone, TT,CGC 

Comments: 4/05 9/07 - NO LONGER AVAILABLE
Boulder has an excellent temperament. He enjoys going to work with his owner who works in a veterinary hospital. Socialization is very important to his owners. They feel that it has has been a major key to Boulders good natured personality. He is very fond of other animals, children and strangers.
Boulder is still growing and is currently at 220 pounds. He is 32+ inches at the shoulders. He has a nice head and wrinkles. His bite is perfect, chest is broad, bone is large, toes are tight and movement is beautiful.
Boulder has been fully tested and is available for stud to approved bitches. His first litter produced 13 puppies.
Boulder won a nationwide photo contest through a drug company at Seville Animal Hospital. His winning photo was published on the front cover of the nationwide Merial 2004 drug calendar.
For more information about Boulder and his background, visit www.windfallmastiffs.com.
More pictures of Boulder can be e-mailed to you upon request.

Published Full Siblings:
  Windfalls Bella Mia Of Harlayne OFAf24,OFEL,CERF
  Windfalls Can't Budge Mudge OFEL,CERF
  Windfalls Cherokee Mittzee OFAg24,OFEL,CERF
  Windfalls Dark Cloud of Reign OFAg24,OFEL,CERF
  Windfalls Lovely Lady Phoebe OFAg25,OFEL,CERF

Owner:
  NAME       : Don and Kim Fish
  KENNEL NAME: Rolling Rock Mastiffs
  ADDRESS    : 13259 Hatfield Road,  Rittman, OH 44270
  PHONE      : (330) 925-1972
  E-MAIL     : kmurray@neo.rr.com
  WEB PAGE   : www.windfallmastiffs.com
Breeder: Chuck and Jan McNamee