Farnaby Fearful Symmetry, CGC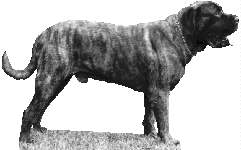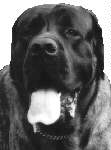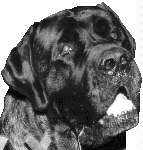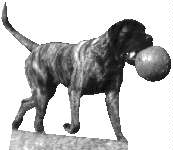 AKC#: WP378113/01    BORN: 2/24/1991    PROVEN: yes
Description:
  COLOR    : apricot brindle			WHITE MARKINGS: none
  MASK     : extends to ears, black ears	COAT          : medium
  HEIGHT   : 32					WEIGHT        : 185
  BITE     : slightly undershot			EYE COLOR     : medium
  BONE SIZE: large/huge				TAIL          : standard
Health Exams:
  HIPS     : OFA MF-1362G40M-T, prelim good	ELBOW  : OFA MF-EL60-T
  EYES     : CERF MF-303/95-47			PATELLA: OFA MF-PA14
  THYROID  : normal				vWD    : normal
Temperament:
  ATTITUDE TOWARD OTHER DOGS    : tentative / friendly
  ATTITUDE TOWARD STRANGERS     : tentative / friendly
  ATTITUDE TOWARD NEW SITUATIONS: curious
Pedigree:
					-Belbeck Plantation Boss
			-Eng.Ch. Trevabyn Black Ice
					-Coopell Malanese
  SIRE: Farnaby Touch Of Class At Trevabyn
					-Eng.Ch. Parcwood W. Bear Esq Of Lesdon
			-Farnaby Special Features
			   BVA		-Dark Devina Of Farnaby

					-Eng.Ch. Glynpedr Dom Perignon
			-Eng.Ch. Damaria Count Magnum
					-Nandina Shady Lady Of Damaria
  DAM:  Eng.Ch. Farnaby Fraze And Fable
					-Eng.Ch. Parcwood W. Bear Esq Of Lesdon
			-Farnaby Special Features
			   BVA		-Dark Devina Of Farnaby

Comments: 1/00 NO LONGER AVAILABLE AS A STUD DOG
Imported from England.
Rufus is tightly linebred on an exceptionally even- growing, late-maturing line that is unusually consistent for type and known for its soundness and longevity. His breeder, Betty Baxter, is the most senior breeder-judge of mastiffs in the world who has bred without interruption and is still breeding and judging. Betty is co-author of two definitive books on the breed. Rufus's dam was the #1 mastiff bitch in England at the time he was born, and his sire, almost never shown, went BIS at the 1991 OEMC Specialty. Rufus is half-brother to the #1 male in England in 1990, Eng.Ch. Trevabyn Mr Snowman At Andwell who came out of Veterans to go BOB at Crufts in 94. Three of the remaining top four Crufts winners were littermates or half-sibs. His relatives are famous for nearly perfect hips as judged by the BVA (English counterpart of OFA that is more accurate comprehensive in its grading scheme).
In addition to correct type (NOT overdone!) there are excellent head, size, and bone behind Rufus, both in Eng.Ch. Parcwood W Bear Esq Of Lesdon, and Eng.Ch. Damaria Count Magnum, and a number of less-well-known relatives. Rufus has thrown wonderful bone, heads, temperaments and angulation in his first two litters, and his pups are getting promising preliminaries on CERF, hips etc. At 3 Rufus is developing a lovely depth of body. He has a wonderful strong level topline like both his parents, beautiful feet, totally black ears, not a white hair on him, and his mask goes all the way to where his ears begin. Being apricot brindle, he can sire all colors. (Also, since Farnaby is a line where the bitches are usually at least as beautiful as the dogs, this is a good line to bring your bitch to if you want to keep a bitch puppy for yourself.)
My stud contract requires the bitch to have been tested via OFA for hips and elbows (preliminaries if she is not quite 2), a CERF exam, a full thyroid panel from MSU, and a vWD test. Photos/video needed before I decide. I will not necessarily refuse a bitch who has a mild fault in one of those areas, IF in other respects she is healthy and typey, she and Rufus don't have a weakness in common, and they (and their parents) balance each other's good and weak points nicely.
My testing requirements and family research on both sides of any proposed pedigree are to help us prevent doubling up on a fault that could cost future puppies pain and their owners great expense and heartache. It is crucial to me to make sure that breeding decisions are based on facts and realistic expectations, so my stud contract requires that puppy buyers of pets as well as show prospects are given copies of all test results from both parents at time of sale (if not before). My stud contract also requires the bitch owner to require full testing (OFA hips and elbows, and annual CERF and MSU thyroid testing) of all offspring (pet and show potential) and requires that I be provided copies of all those test reports. Free "puppy-protective" contract support before pups are sold!
Rufus could do with a bit more angulation, but both his parents were well angulated, and most of his siblings, so with a well angulated bitch (both front and rear) he should produce lovely movers. Rufus paddles with his front feet, though extensive testing has revealed no faults or abnormalities. So far he has not passed this on at all. His sire and his half-sister Turner move better than any mastiffs I have seen in my near-decade in the breed.

Published Photographs:  MCOA Journal, 1992#3, page 49.
Published Offspring:
  Gold Coasts Amanda, CGC OFAf24,OFEL,CERF
 *Gold Coasts Augustus McCrae, CD,CGC,TDI OFAe24,OFEL,CERF
  Gold Coasts Bonnie Lass OFAf25,CERF
  Gold Coasts Columbo, CGC OFAf24,OFEL,CERF
  Gold Coasts Maori Moko, CGC,TDI OFAg26,CERF
  Gold Coasts Mick Ballou OFAf26,OFEL,CERF
  Gold Coasts Sarah, CGC,TDI CERF
 *AKC/UKC Ch. Gold Coasts Woodrow F Call, CGC,TDI OFAg24,OFEL,CERF
  Megamillions CW CERF
  Megamillions Hurricane Hugo, CGC,TDI OFAg27,OFEL,CERF
 *Megamillions Masterpiece, CD OFAg27,OFELCERF
  Megamillions Painted Warrior OFAe27,OFEL,CERF
  Megamillions Sweet Pea CERF
  Toad Halls Natasha CERF
Published Full Siblings:
  Eng.Ch. Farnaby Fringe Benefit

Owner:
  NAME       : Laurie Brooke Adams
  MAIL TO    : mastiffs@mindspring.com
  KENNEL NAME: Tigris
  ADDRESS    : 5209 Lorbacher Road, Apex, NC 27502
  PHONE      : (919) 661-2244
Breeder: B. Baxter