AKC/UKC Ch. Gold Coasts Woodrow F Call, CGC,TDI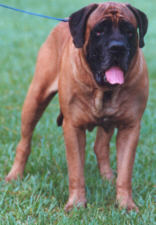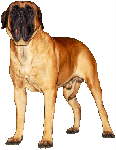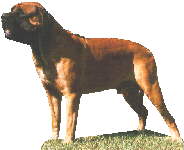 AKC#: WP540549/04     BORN: 2/16/1994     PROVEN: yes
Description:
  COLOR     : apricot			WHITE MARKINGS: none
  MASK      : standard, black ears	COAT          : short
  HEIGHT    : 31			WEIGHT        : 190
  BITE      : slightly undershot	EYE COLOR     : medium
  BONE SIZE : large			TAIL          : standard
  ANGULATION: over angulated		NAILS         : all black
Health Exams:
  HIPS     : OFA MF-2211G24M-T, Prelim GOOD	ELBOW: OFEL MF-EL387-T
  EYES     : CERF MF-460/94-1&19&68		HEART: OFA MF-CA73/41M/C-T
  THYROID  : thyroid normal			vWD  : normal vWF: 70%
  PATELLAS : MF-PA29/17/M-T		CYSTINURIA   : positive
Temperament: CGC, TDI
  ATTITUDE TOWARD OTHER DOGS    : cautious
  ATTITUDE TOWARD STRANGERS     : friendly
  ATTITUDE TOWARD NEW SITUATIONS: curious / bold

Pedigree:
						-Eng.Ch. Trevabyn Black Ice
			-Farnaby Touch Of Class At Trev
						-Farnaby Special Features
  SIRE: Farnaby Fearful Symmetry, CGC
          OFA MF1362FG27M			-Eng.Ch. Damaria Count Magnum
          OFEL,CERF	-Eng.Ch. Farnaby Fraze And Fable
						-Farnaby Special Features

						-Ch. Royalcourt Jonah
			*Ch. Willowledge Recon Sniper, CD
						-Royalcourt Jesabelle
  DAM:  Gold Coasts Emelia
          OFA MF871G26F				-Ch. Gulph Mills Resounder
          OFEL,CERF	-Walnut Hill Resolve, TT
			   OFA MF438F,CERF	-Winterwood Raconteur


Comments: 1/00 NO LONGER AVAILABLE AS A STUD DOG
"Woodrow" is a character! He is vocal, very affectionate, and enthusiastic. He is very sound moving and utterly tireless. He is heavily muscled, large boned, has a perfect topline and black, black pigment. He is DNA profiled with both AKC and UKC. He has produced admirable qualities in his offspring.
Woodrow is a Group winner in UKC and easily earned his AKC Championship with three majors. He is obedient, active, well trained, and a CD is planned for him this year.
He has a very short, richly colored Apricot coat, with no white. He is completely free of Deer Run bloodlines. He has saggy lower eyelids (ectropion) but has not passed this trait on. He has a minor tail kink, near the tip of his tail, and he has passed this flaw on to some of his offspring. He has produced good moving, sound puppies with very nice OFA results. All of his littermates, siblings and parents are CERFed and either OFAed or OFA prelimed.
Woodrow is a MCOA Silver Health Award recipient, but due to positive cystinuria test results, he is no longer available at stud.

Published Offspring:
  Gold Coasts Aldo Ray OFAf,OFEL,CERF
  Gold Coasts Change Of Heart OFEL,CERF
  Gold Coasts DeVine Abigail CERF
  Gold Coasts DeVine Braveheart, CGC OFAe24,OFEL,CERF
  Gold Coasts DeVine Freyja OFAe24,OFEL,CERF
  GoldCoasts DeVine GoyaColossus OFAg24,OFEL,CERF
  UKC Ch. GoldCoasts DeVine Heartbreaker OFAg24,OFEL,CERF
  Gold Coasts DeVine Lorena OFAg25,OFEL,CERF
  Gold Coasts Eye Of Newt OFAf29
  Gold Coasts DeVine Samson CERF
  Gold Coasts DeVine Zeus CERF
  Gold Coasts Martha Washington OFAg26,OFEL
  Tigris Stella Bella OFAg31,OFEL,CERF
  Tigris The Hefalump CERF
Published Full Siblings:
  Gold Coasts Amanda, CGC OFAf24,OFEL,CERF
 *Gold Coasts Augustus McCrae, CD,CGC,TDI OFAe24,OFEL,CERF
  Gold Coasts Bonnie Lass OFAf,CERF
  Gold Coasts Columbo OFAf,OFEL,CERF
  Gold Coasts Maori Moko, CGC,TDI OFAg26,CERF
  Gold Coasts Mick Ballou OFAf,OFEL,CERF
  Gold Coasts Sarah, CGC,TDI CERF

Owner:
  NAME   : Lisa Nicollelo
  E-MAIL : GCmastiffs@aol.com
  KENNEL : Gold Coast
  ADDRESS: 11669 152 St N,  Jupiter, FL 33478
  PHONE  : (561) 575-7211
Breeder: L. Nicolello