Ch. Willowledge's Recon Sniper, CD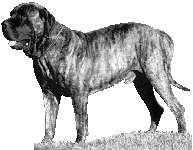 AKC#: WF237302     BORN: 3/17/1982     DIED: 7/1990     PROVEN: yes
Description:
  COLOR     : apricot brindle		WHITE MARKINGS: none
  MASK      : standard, black ears	COAT          : short
  HEIGHT    : 30			WEIGHT        : 165-170
  BITE      : scissors			EYE COLOR     : dark
  BONE SIZE : large			TAIL          : short
Health Exams:
  HIPS     : x-rayed			ELBOW: unknown
  EYES     : unknown
  THYROID  : unknown			vWD  : unknown
Temperament: not tested
  ATTITUDE TOWARD OTHER DOGS    : aloof
  ATTITUDE TOWARD STRANGERS     : aloof
  ATTITUDE TOWARD NEW SITUATIONS: curious / at ease

Pedigree:
					-Ch. Griffiths T Geronimo
			-Willowledge J Johnson
					-Ch. Willowledge Mary Poppins
  SIRE: Ch. Royalcourts Jonah
					-Ch. Greenbrier's Shambeau
			-Ch. Sanobar Saxon Queen
					-Ch. Sanobar Lady MacBeth

					-Bournewood Jasper
			-Ch. Bournewood Edwin
					-Bournewood Sophie
  DAM:  Royalcourts Jesabelle
					-Ch. Willowledge Knute
			-Sanobar Lady Ashton
					-Ch. Sanobar Lady MacBeth

Comments: 12/94 Not available as a stud dog.
Sniper was a compact, deep chested apricot brindle. He had a poor top-line and short tail. His bone was large, his feet perfect and his head broad with a good stop. He had a wonderful, sweet, very gentle disposition. He had two very strong personality quirks that he has passed on to most of his offspring and grand kids (he was a "smiler" and loved to swing his great head back and forth while "talking" loudly). Sniper was the easiest dog to train that I have ever known. I'd show him one time what I wanted, and he'd learn it perfectly. His descendants are known for their sweet natures and high trainability. He was owner trained and handled to his CD and Championship and worked in Schutzhund with great enthusiasm.
Sniper was a very healthy dog all of his life. He was a swimming fanatic and regularly swam completely under water to fetch rocks. He was gentle and tolerant of all animals and children. Sniper had one fear - loud noises such as fireworks and thunder. In July of 1990, he escaped from my parents fenced acreage (where he lived most of his life as my mother's protector) when the neighborhood brats were setting off firecrackers. No one was home to soothe him. He ran to escape the noise and was hit and killed by a car on the highway. A very premature death and an undeserved one. He is greatly missed by all his friends and family.

Published Offspring:
  Cookie McBuns
  First Coasts Ghostbuster
  First Coasts Lady Gwendolynn
  Gold Coasts Deja Vu
  Gold Coasts Emelia OFAg26,OFEL,CERF
 *Ch. Gold Coasts Marshal Tucker, CGC,TDI OFAf31,CERF
  Ch. Gold Coasts Maui Bruiser
  Gold Coasts Polaris Carri On, CD,CGC OFEL,CERF
  Ch. Gold Coasts Polaris Titan, CDX,TT,CGC,TDI OFAg24,CERF
  Gold Coasts Ruffian
  Gold Coasts Sampson
  Nioclas' Lady Di
  Tri Corner's Balsafir
Published Full Siblings:
  Darklady Roxanne, CDX
  Midnight's Madness
  Royalcourt Nettesa
  Ch. Uther Pendragon OFA

Owner:
  NAME       : Lisa J. Nicolello
  KENNEL NAME: Gold Coast
  ADDRESS    : 11669 152 St N,  Jupiter, FL 33478
  PHONE      : (561) 575-7211
Breeder: P. Reed