Admiral Spruance Of Grandeur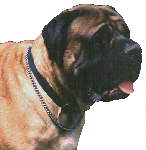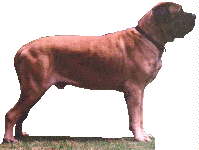 AKC#: WP421030/02     BORN: 6/12/1992     PROVEN: yes
Description:
  COLOR     : fawn			WHITE MARKINGS: none
  MASK      : standard, black ears	COAT          : medium
  HEIGHT    : 36			WEIGHT        : 250
  BITE      : scissors			EYE COLOR     : very dark
  BONE SIZE : large 			TAIL          : standard
  ANGULATION: moderate			NAILS         : all black
Health Exams:
  HIPS   : OFA MF-2807G63M-T		ELBOW	: OFEL MF-EL733-T
  EYES   : CERF				PATELLA	: 
  THYROID: normal			vWD	: normal 110%
Temperament:
  ATTITUDE TOWARD OTHER DOGS	: playful
  ATTITUDE TOWARD STRANGERS	: alert / very friendly
  ATTITUDE TOWARD NEW SITUATIONS: at ease
Pedigree:
						-Ch. Beauregard Sasquatch Axtell
			-Ch. Altom's Paulas Pride
						-Altom's Smiling Paula
  SIRE: Altom's MoBe
         OFA MF1012G29M 			-Ch. Oak Ridge's Janus
			-Ch. Altom's Mischevious Molly
			   OFA MF765G53F	-Ch. Peersleigh Bridgwood Blair

						-Ch. Oak Ridge's Janus
			-Ch. GG's Magnificent Percivale, CD
						-Ch. Peersleigh Bridgwood Blair
  DAM: Ch. GG's Classic Countessa
         OFEL					-Ch. Iron Hills Rocky Hill Thor
			-Ch. Rocky Hill Greystone Genesis, CD
						-Ch. Deer Run Countess Inez

Comments: 12/97 NO LONGER AVAILABLE AS A STUD DOG
Spruance is a very large male with excellent bone and substance. In spite of his size he sports good rear angulation, topline, and tight high arched toes. He has wonderful pigmentation and is genetically dominant in this area. His muzzle and head are in correct proportion to the breed standard with ample wrinkle and correct earset. Spruance's best feature is his front; being deep, broad, with prominant forechest, layback of shoulder, with no east & west of feet. He sports a warm friendly playful temperament, though is alert and watchful.
A 3 generation pictoral pedigree and breeding coefficients are available upon request for genetic research and researching 'Probability Of Inheritance' of possible breedings as not every male is suitable for every bitch.
Spruance is at stud on a limited basis to approved, tested, bitches. We prefer to breed quality, not quantity.

Published Full Siblings:
  Magnificent Molly O'Grandeur OFAf37,OFEL
  Ch. Double Edge Gladys O'Grandeur

Owner:
  NAME       : Donna Dick & Lynn Bliss
  E-MAIL     : dondick@iswt.com
  KENNEL NAME: Grandeur
  ADDRESS    : 221 Brandon Rd, Martin, TN  38237
  PHONE      : (901) 588-0078
Breeder: owner