Ch. Megamillions Sturgis Of Pimlico, CD,WD,CGC,TDI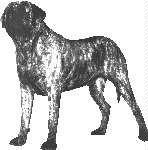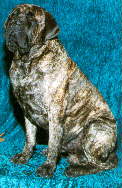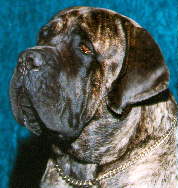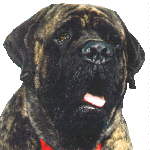 AKC#: WP368494/04    BORN: 5/16/1991    PROVEN: yes
Description:
  COLOR     : fawn brindle		WHITE MARKINGS: none
  MASK      : standard, black ears	COAT          : medium
  HEIGHT    : 29			WEIGHT        : 170
  BITE      : reverse scissors		EYE COLOR     : medium
  BONE SIZE : large			TAIL          : standard
  ANGULATION: moderate			NAILS         : all black
Health Exams:
  HIPS     : OFA MF1358F24M prelim GOOD	ELBOW    : OFEL MF-57
  EYES     : CERF MF-290/93-21 & 94-36
  THYROID  : normal			vWD      : normal  vWF:Ag: 89%
  HEART    : OFA MF-CA2			PATELLAS : OFA MF-PA6/39
  PRA DNA  : Homozygous Normal (clear)
Temperament: CGC, TDI
  ATTITUDE TOWARD OTHER DOGS    : friendly
  ATTITUDE TOWARD STRANGERS     : friendly
  ATTITUDE TOWARD NEW SITUATIONS: curious, at ease

Pedigree:
						-Ch. Royalcourt's Jonah
			*Ch. Willowledge Recon Sniper, CD
						-Royalcourt's Jesabelle
  SIRE: Ch. Gold Coasts Polaris Titan, CDX,TT,CGC,TDI
         OFA MF635G24M				-Ch. Berengaria's Drum Of Reprieve
         CERF,vWD Clear	-Dahlseide Sweet Melody
			   OFA MF440		-Dahlseide Woods Dame Whittle

						-Ch. Pinehollows Family Tradition
			-Elsa's Pride Maximillion
						-Greco's Axia Fawn
  DAM:  Tony's Tequila Sunrise, TT
         OFA MF1026G26F				-Baskerville's Royal Caesar
         OFEL,CERF	-Mangowoods Minerva
						-Buckingham's Blueevas

Comments: 6/95 NO LONGER AVAILABLE AS A STUD DOG
Comments: 2/99 Sturgis is a very well put together mastiff even if he's a little on the small side. He has a great head that meets the standard with a very short muzzle, a broad skull and small ears. He gives the impression of great size.
He is a friendly dog who goes many places and gets on well with other dogs and people. He especially likes children and will do anything to get them to pay attention to him. He loves to swim, is a frisbee nut, and is very intelligent. He is completely reliable off leash and very responsive to hand signal commands.
Sturgis finished his Championship in May 1994 with back to back Majors. He is a multiple BOB winner and has completed his CD title and received the MCOA Working Dog title. He has been a therapy dog through Therapy Dogs International and does some therapy work at a local nursing home although he prefers to hang out and run around with kids.
Sturgis was the first recipient of the Mastiff Reporter "5 star" award. Although in his later years his eyes have failed to pass CERF with a small cataract in one eye and his thyroid has become low although he shows no symptoms of a low thyroid and when put on a thyroid stimulant show symptoms of hyperthyroidism. He is Cardiac and Patella Certified through OFA also.
Sturgis' best features are his head, temperament, intelligence, broad chest, straight front, excellent feet and very broad muscular rear.

Published Photographs:  MCOA Journal, 1994#1, page 42.
Published Offspring:
  Classicals Dervish Of Pimlico OFAg24,OFEL,CERF
  Classicals Moses Of Pimlico OFAg27,OFEL
  Classicals Petruchio Of Pimlico CERF
  Classicals Tullamore Dew OFEL
  Crestwood Bagheera OFEL,CERF
  Crestwood Big Gun OFEL,CERF
  Crestwood Caberet OFEL,CERF
  Crestwood Classical Jazz CERF
  Crestwood Harley Of Sturgis CERF
  Crestwood Have Gun Will Travel CERF
  Crestwood Lily Langtree CERF
  Crestwood Murphy's Alibi CERF
  Crestwood Sampson CERF
  Crestwood Vito CERF
  Crestwood Willow CERF
  Crestwood Zola L'EtoileDeParis OFAg24,CERF
  Gold Coasts De Vine Sabrina CERF
  Gold Coasts De Vine Yemeya CERF
  Gold Coasts Lord Bernard Regis CERF
  Magic Ubie Lee CERF
  Majestiks Joshua Of Jericho OFAg29,OFEL
  Majestiks Lady Jessica OFAg31,OFEL
  Majestiks Star Of David OFAe29,OFEL
  Monarch's De Vine Wisdom OFAg24,OFEL,CERF
  Monarch's Gold Coast Fanatic CERF
  Sweet Dolly Of Pimlico, CGC OFEL,CERF
  Sweet Megan Devine CERF

Published Full Siblings:
  Judson Andrew Wolfe Junior OFAg33
  Megamillions Brandy Wine OFEL,CERF
  Megamillions Kahlua & Cream OFAf34,OFEL,CERF
 *Ch. Subigre's Challenger My T Max, CGC OFAg24,OFEL,CERF

Owner:
  NAME       : Dawn A. Anderson
  MAIL TO    : daa@pb.quik.com
  KENNEL NAME: Mastiffs Of Pimlico
  ADDRESS    : 16318 E. Pimlico Dr.,  Loxahatchee, FL 33470
  PHONE      : (407) 795-1736
Breeder: A. & S. Cesany