Celtics Crimson King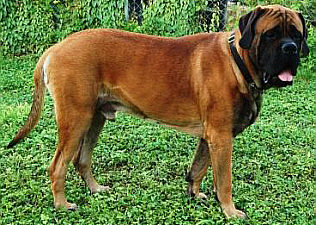 AKC#: WS181210/01     BORN: 2/25/2006    PROVEN: yes
Description:
  COLOR     : apricot			WHITE MARKINGS: none
  MASK      : standard, black ears	COAT          : short
  HEIGHT    : 33			WEIGHT        : 215
  BITE      : slightly undershot	EYE COLOR     : dark
  BONE SIZE : large			TAIL          : standard
  ANGULATION: moderate			NAILS         : all black
Health Exams: 
  HIPS   : OFA good MF-7335G27M-VPI & prelim good at 20 months
  ELBOW  : OFEL MF-EL4012M27-VPI & OFEL prelim clear
  EYES   : CERF MF3451/2007-21		PATELLA   :
  THYROID: OFA MF-TH937/27M-VPI		vWD       : normal 105%
  HEART  : OFA MF-CA1524/20M/P-PI	CYSTINURIA: normal
  PRADNA : clear by parentage
Temperament:
  ATTITUDE TOWARD OTHER DOGS    : friendly
  ATTITUDE TOWARD STRANGERS     : friendly
  ATTITUDE TOWARD NEW SITUATIONS: at ease
Pedigree:
							 -Lionhearted King Of Midnight, CGC
			*Ch. Cape Wind's Cliff Hanger
			 OFA MF6499G29M,OFEL		 -Ch. Cape Wind's Forever Autumn, CGC,TDI
  SIRE: Ch. Cape Winds Three Run Odyssey, TT,CGC,TDI
          OFA MF6499G29M,OFEL				 -Ch. Iron Hills InTo The Night
	  PRADNAP	-Ch. Ironhills Girl Next Door, CGC
			 OFA MF4770G30F,OFEL,CERF,PRADNA -Ch. Iron Hills Little Earthquake

							 -Am.Can.Ch. Iron Hills Under The Influence
			-Ch. Oaklane's This Bud's For Us
			 OFA MF4448G24M,OFEL,CERF,PRADNA -Ch. Oak Lane's Image Of Dale
   DAM: Ch. Celtics Rajin Cajun
	  OFA MF4148G24F,OFEL				 -Ch. Iron Hills Storm' in Norman
	  PRADNA	-Ch. Celtics Starstruck Sabrina
			  OFA MF3630G27F,OFEL,CERF	 -Ch. Maximillion's Walkabout Tess

Comments: 12/07
Luke is everything I wanted in a Mastiff. He has a strong topline, large bone structure, great rear, good movement, beautiful black headpiece with tons of wrinkles, and a deep deep apricot color I have rarely seen. He is friendly to everyone he meets, almost to a fault and he loves children. He gets along very well with other dogs. Yet he is also very protective of our property and myself. He is an awesome representation of the breed.
Luke can be very goofy, he does silly things all the time and just makes everyone around him laugh. Whoever meets Luke falls in love with him immediately.
Luke has not been shown but his 4 generation pedigree holds 21 Champions. He may be shown in late 2008.
His first litter sired 9 puppies, 5 apricots and 4 fawns. Luke has 1 sibling, Celtic's Cleo, who is another beautiful apricot and a HUGE girl, taller than Luke.
Any interested bitches would need to be tested and photographs provided.
I have frozen sperm available and can ship fresh semen as well.
DDC Coat Length DNA Tested ID #17554 result N/N clear.
Visit Celtic Mastiff's web page at www.celticmastiffs.com.

Owner:
  NAME       : Suzie Mears
  E-MAIL     : celticmastiffs@bellsouth.net
  KENNEL NAME: Celtic Mastiffs
  ADDRESS    : 19775 SW 296 St,  Homestead, FL 33030
  PHONE      : (305) 247-8600
Breeder: owner