Am.Intl.UKC.Ch. Gold Coasts Mackeson Stout, CD,RN,CGC,TDI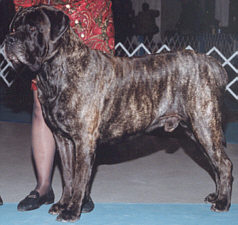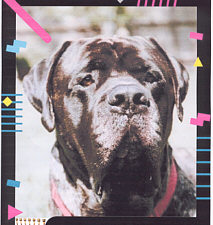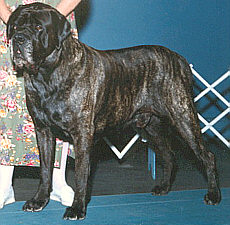 AKC#: WP636921/02     BORN: 7/8/1995     PROVEN: yes
Description:
  COLOR     : brindle			WHITE MARKINGS: none
  MASK      : standard, black ears	COAT          : short
  HEIGHT    : 30"			WEIGHT        : 188
  BITE      : scissors			EYE COLOR     : medium
  BONE SIZE : large			TAIL          : standard
  ANGULATION: over angulated		NAILS         : all black
Health Exams:
  HIPS    : OFA MF-3273F37M-T, OFA Prelim Good	ELBOW: OFEL MF-EL-1008-T
  EYES    : CERF MF-634/00-59			HEART: OFA MF-CA19/12M/P-T
  THYROID : normal				vWD  : normal vWF: 166%
  PATELLAS: OFA MF-PA58/12/M-T			CYSTINURIA   : UPenn Negative 6/19/2000
  PRA DNA : Homozygous Normal (clear)
Temperament: CGC,TDI
  ATTITUDE TOWARD OTHER DOGS    : friendly
  ATTITUDE TOWARD STRANGERS     : reserved
  ATTITUDE TOWARD NEW SITUATIONS: curious / at ease

Pedigree:
							-Farnaby Touch Of Class At Trev
			*Farnaby Fearful Symmetry, CGC
			  OFA MF1362G40M,OFEL,CERF	-Eng.Ch. Farnaby Fraze And Fable
  SIRE: UKC Ch. Gold Coasts Augustus McCrae, CD,CGC,TDI
          OFA MF-2212E24M-T				* Ch. Willowledge Recon Sniper, CD
          OFEL,CERF	-Gold Coasts Emelia
			  OFA MF871G26F,OFEL,CERF	-Walnut Hill Resolve, TT

							-* Ch. Willowledge Recon Sniper, CD
			*Ch. Gold Coasts Marshall Tucker, CGC,TDI
			  OFA MF940F31M			-Walnut Hill Resolve, TT
  DAM:  Megamillions Pooka, CGC,TDI
          OFA MF2041F28T				-Ch. Gold Coasts Polaris Titan, CGX,TT,CGC,TDI
          OFEL,CERF	-Megamillions Kahlua & Cream, CD
			  OFA MF1606F34F,OFEL,CERF	-Tony's Tequila Sunrise, TT,CGC,TDI

Comments: 4/03, 4/04, 2/05
Mackeson Stout (named after a triple dark beer) is a well knit, muscular, good tempered dog with an exceptionally dark "black" brindle coat. Like his sire, Gus, Mackie is a late maturing dog who looks and acts like a youngster.
Mackeson earned his AKC CH at age 7, a Reserve Best In Show at a Multi-Breed UKC show at nearly 8. Mackeson is also an International Champion. He earned 3 V1 ratings, BOB and Best Veteran in June 2002.
He had four qualifying scores in obedience in 2004 and took one first place at the nationals, two second place ribbons and one fourth. Two shows were in April and two in September. He earned his C.D. at the age of nine years. He is now starting rally obedience and he is signed up for a show in February 2005. With a bit of luck we are hoping to get the first Mastiff rally title. Mack will be 10 years old in July. As far as we know he is the only Mastiff to hold the AKC ch, UKC Ch, and Intl Ch. titles together.
Mack is still very active in therapy. He goes to three nursing homes and does the summer reading program at the library to teach from 5 to 15 kids safety around dogs, dog care and responsible ownership. Separate age divisions and two separate classes which works out to six visits to the library over the summer.
Mackie's pedigree should be of interest to those looking for soundness, good temperament, longevity, health and working ability in beautiful packaging. He has worked as a therapy dog at the local Elementary remedial reading program for two years running and makes frequent visits to nursing homes, the library and a children's daycare center. He also accompanies his owner to her medical clinic on weekends and nights.
Mackie is a MCOA Gold Health Award winner.
Mackie has been bred twice using chilled semen - producing 10 and 8 puppies. He has 2 UKC Champion sons, Gold Coasts Safecracker Stout (#1 Top Ten UKC mastiff in 2002), and Gold Coasts Preston of Pimlico. Three other sons are very near finishing. His oldest litter turned 1 year old in February 2003.
He is available to fully tested, quality bitches.
Mackeson resides in Texas, but interested breeders are asked to contact his breeder, Lisa (in Florida), for more information.

Published Full Siblings:
  Gold Coasts Kandy Kane OFAg35,OFEL,CERF
  Gold Coasts Midnight Magic OFAf24,OFEL,CERF
  Gold Coasts Mr. Bean OFAe29,CERF
  UKC Ch. Gold Coasts Raven OFAg26,OFEL,CERF

Published Offspring:
  Gold Coasts Beamish Stout OFAg25,OFEL,CERF
  UKC Ch. Gold Coasts Diamond Jim
  UKC GrCh. Gold Coasts Preston Of Pimlico CERF
  UKC Ch. Gold Coasts Safecracker Stout CERF
  Gold Coasts Simone CERF
  Gold Coasts Smileyface CERF

Breeder/Contact:
  NAME   : Lisa Nicollelo
  E-MAIL : GCmastiffs@aol.com
  KENNEL : Gold Coast
Owner:
  NAME   : Samantha Michaels
  ADDRESS: Giddings, TX
  E-MAIL : onepuddlejumper@msn.com
Breeder: L. Nicolello